Ultimate Safe® 4 Gun Cabinet For Shotguns And Rifles With Lockable Internal Ammunition Box
---
Features:
POLICE APPROVED - Built to British Standard BS7558/92 for gun security.
MAXIMUM SECURITY - fitted with two unique Triple Blade Lock® designed and created by Ultimate Safe. Anti-crowbar door system offers outstanding protection for your firearms - the cabinet door has been tested to withstand attempts to be broken into using crowbars or chisels.
STURDY CONSTRUCTION - Ultimate Safe gun cabinets are made from premium steel which is 25% thicker steel than the British standard requirement (2.5mm vs. 2mm). Weight: 35Kg
FIREARM STORAGE - suitable for up to 4 shotguns or rifles. Has lockable internal ammunition security storage box. This gun cabinet is equipped with a memory foam gun divider and foam base to keep your guns from being scratched. Approximate dimensions of gun safe: Height - 145cm (4ft 9"), Width - 28cm (11"), Depth 23cm (9").
FITS BEAUTIFULLY - finished in a durable semi-gloss black powder coat finish, this shotgun safe looks appropriate in just about any interior setting. Comes with 4 pre drilled holes in the back and base for securing into wall or floor, fixing bolts included.
Detailed Information:
Ultimate Safe® gun cabinets are the ultimate deterrent and offer the ultimate protection for your firearms.
The most important part of any gun safe cabinet is the lock. That is why we have developed a unique Triple Blade Lock® mechanism to ensure that your guns are locked away securely. No gun safe in the world, with a Triple Blade Lock® has ever been broken into. We have conducted extensive tests to make sure that our gun safes can cope with brute force, forced entry and withstand sustained assault.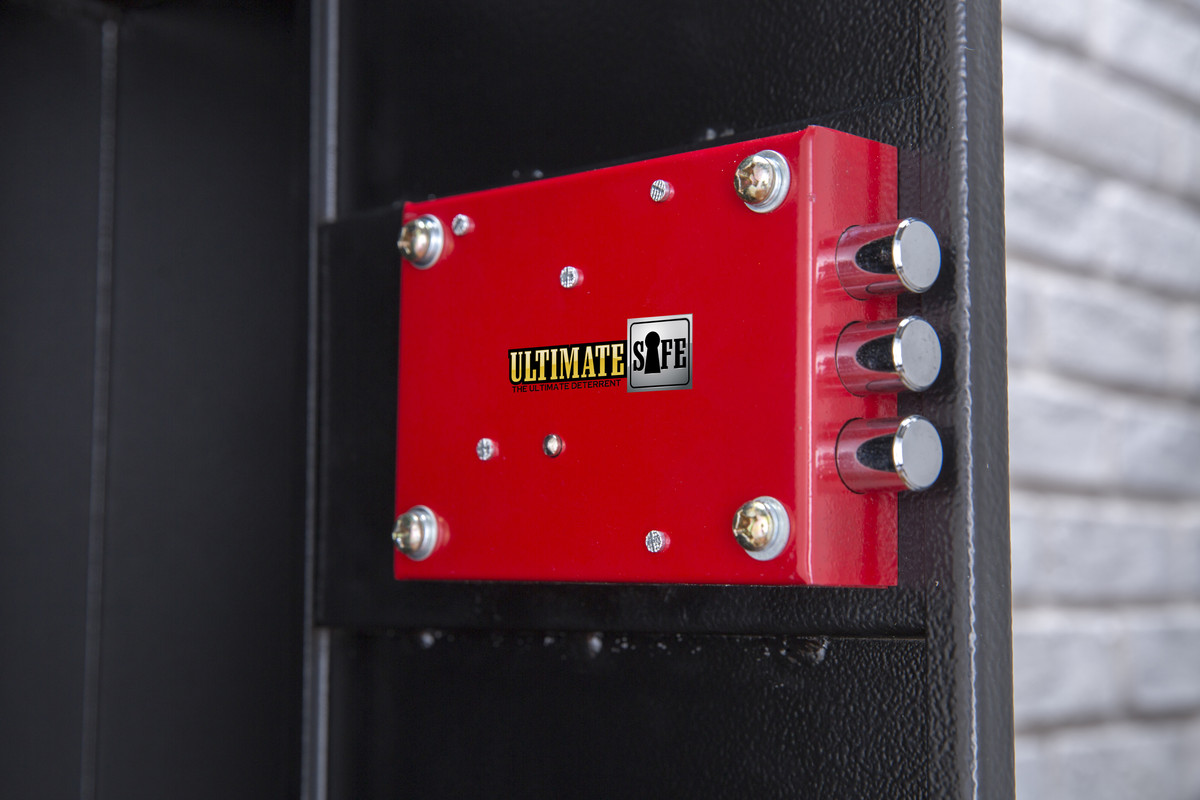 An anti-crowbar door system further reinforces the shotgun cabinet. A door design with folded corners means that crowbars and chisels are simply not effective for trying to break into the safe. The unique combination of using what is probably the best lock in the world, in the form of the Triple Blade Lock®, along with the anti-crow bar construction with folded corners has made this gun safe almost impossible to break into.
Some call it the beast,
Some call it the legend,
We simply call it the best
This Ultimate Safe® 4 shotgun cabinet is built to British Standard BS7558/92 for gun security and is police approved. We've invested 10 years in the design and 5 years in the manufacturing of this sturdy and beautifully made product. Developing a unique lock that you will not find on any other product on the market was an absolute priority for us and we didn't stop there, we went beyond what the British Standard requires in other aspects of the construction, as you will learn when you continue reading. Please see the video below showing the BS7558/92 testing your Ultimate Safe® steel gun safe cabinet has undergone:
Nothing on the market today compares to the Ultimate Safe® Steel gun cabinet. You already read about our unique locking mechanisms and anti-crow bar construction, but we've went beyond what the standard requires to produce a shotgun cabinet that you can truly rely on. Ultimate Safe® gun cabinets are made of the finest 2.5mm steel - a full 25% thicker than what British Standard BS7558/92 requires and what most of the gun safes out there offer. Our gun safes are sturdier, weightier and ultimately safer than most.
Another area where Ultimate Safe® excels is the look and feel of the cabinet. Our gun safes are finished in a durable high-quality semi-gloss black powder coat finish, which looks great in almost any interior setting. On the outside you will find the Ultimate Safe and Triple Blade Lock logos in gold. Inside the gun cabinet you will find a memory foam gun divider to protect your firearms from getting scratched. Further foam padding in contrasting red is installed at the base.
Before purchasing any gun safe, you should think about where you will store your ammunition. This Ultimate Safe® 4 gun cabinet has a lockable internal ammunition security box, which allows you to store ammo separately from your guns, adding another layer of security. The internal ammo box comes with its own keys which are different than the ones for the cabinet door.
Your shotgun locker cabinet has 4 pre-drilled holes in the back and base for securing it into the wall or floor. Fixing bolts are included.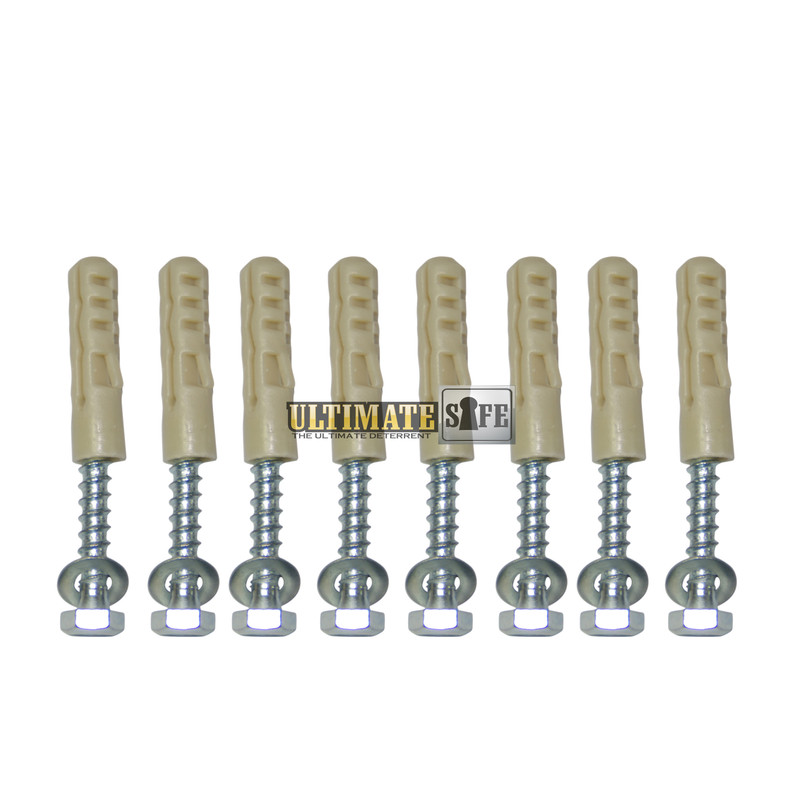 The weight of your Ultimate Safe® 4 gun safe steel cabinet is 35Kg. The overall approximate dimensions of the gun safe cabinet are 145cm (H), 28cm (W) and 23cm (D).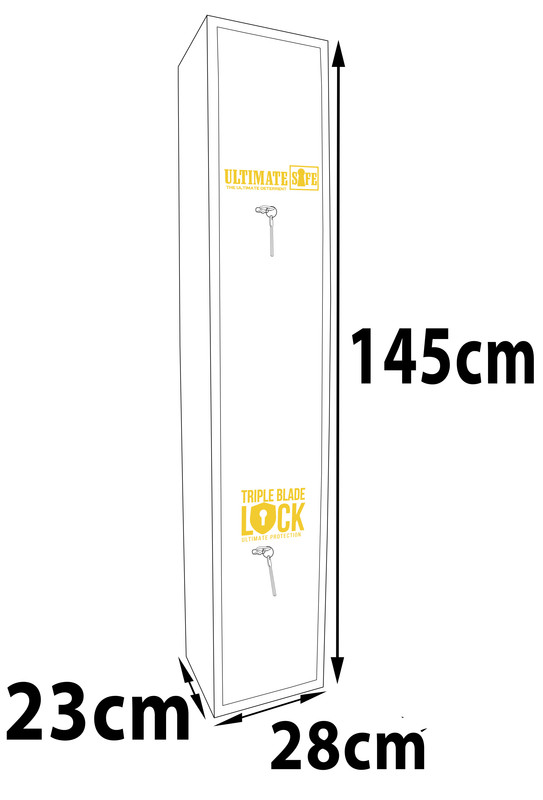 Postage Information
Delivery is via courier service
We offer free postal insurance on the delivery of your gun safe so if anything should happen en-route to you, we're both covered.
We offer free item tracking to ensure transparency and peace of mind for the delivery of your goods.
UK Mainland Postage is FREE.
Additional delivery costs apply for Northern Ireland, UK Highlands, Off-Shore Islands, and the following postcodes:
AB31-38, AB41-45, AB51-56, DD3-11, DG3-DG14, DG16, EH35-40, EH42-46, FK14, FK18-21, G6-9, G83-84, HS1-9, IM1-9, IM99, IV1-28, IV30, -32, IV36, IV40-49, IV51-56, IV63, KA6, KA18-19, KA26-28, KW1-3, KW5-17, ML11-12, PA20-49, PA60-78, PA80, PH3-PH44, PH49-50, PO30-41, TD1-14, TR21-25 and ZE1-3 please contact us for delivery costs.
For Saturday delivery, please contact us. There are extra surcharges incurred for Saturday deliveries.
Buy now with complete confidence.